Resources & Website Links:
Butte County COVID-19 Testing
Location: Silver Dollar Fairgrounds in Chico
Monday - Friday, 7 AM to 7 PM
By appointment only (walk-ins will NOT be tested)
You must register online or by phone
https://LHI.care/covidtesting (888) 634-1123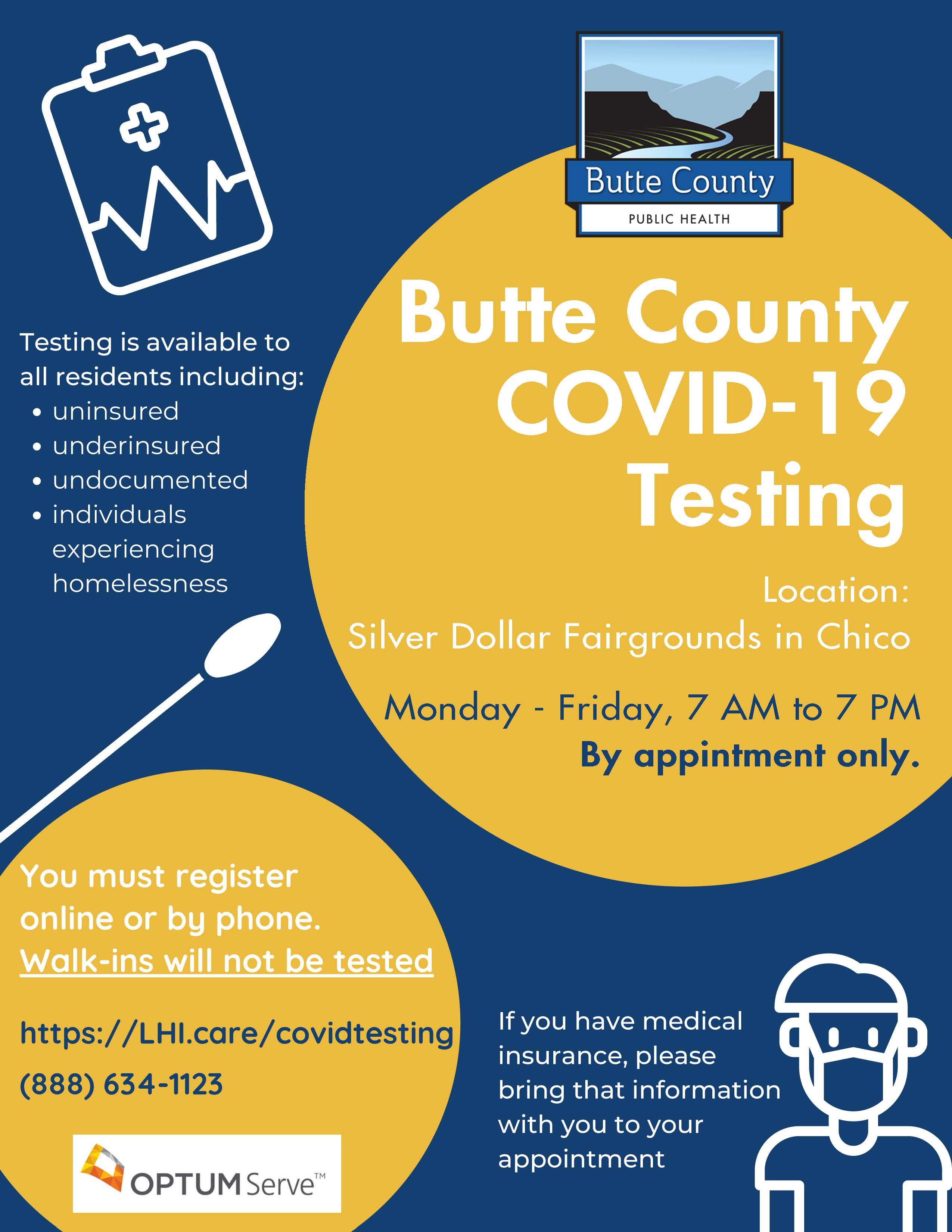 Pandemic Unemployment Assistance (PUA)
This is a newly available emergency unemployment assistance program under the federal CARES Act. PUA provides assistance for unemployed or partially unemployed individuals who are not eligible for regular unemployment insurance and who are unable or unavailable to work due to COVID-19 related circumstances.
If you are a business owner, independent contractor, self-employed worker, freelancer, or gig worker and only received a 1099 tax form last year, you are most likely eligible for PUA. You can apply for benefits starting April 28, 2020.
To be eligible for PUA, you must meet any of the following criteria:
Any criteria related to changes in employment status due to COVID-19
You had a definite date to begin work, but the job is no longer available, or you could not reach the job as a direct result of COVID-19.
You are unable to travel to your job as a direct result of COVID-19.
You quit your job as a direct result of COVID-19.
Your workplace is closed as a direct result of COVID-19.
You are self-employed or work as an independent contractor (with reportable income, such as a 1099) and you are unemployed, partially employed, or unable to work because COVID-19 has forced you to stop working.
The Employment Development Department (EDD) will be accepting online applications for this program beginning on Tuesday, April 28, 2020.
https://unemployment.edd.ca.gov/guide

P-EBT Benefits Coming Soon in May 2020

Pandemic EBT
Get help buying food while schools are closed
Because schools are closed due to COVID-19, children who are eligible for free or reduced-price meals can get up to $365 in food benefits in addition to their pick up meals from school. These food benefits are called Pandemic EBT or P-EBT.
How will families get their P-EBT benefits? Most families with children who applied for CalFresh or Medi-Cal benefits do not need to apply. They will get their P-EBT card in the mail during the month of May. P-EBT cards will begin arriving around May 12, 2020 through May 22, 2020.
Families with children who are eligible for free and reduced-price meals and who do not get their P-EBT card in the mail by May 22, 2020 must apply online before June 30, 2020.
*Students can still pick up to-go meals if they have P-EBT benefits.

Where can families apply? Families should look out for a message from their school district or local community-based organization about how to apply in mid to late May.
Use it like a debit card. Families will get up to $365 per eligible child on their P-EBT card to use on food and groceries. If you already have this card, you do not need to apply online.
P-EBT is a program by CDSS and CDE, funded by the USDA, an equal opportunity provider and employer.


Energy Assistance Resource - REACH Program
Beginning April 1, 2020, the REACH program will provide financial support for those customers who have been impacted by the COVID-19 virus. Customers who are flagged in PG&E's billing system may receive up to $400 from the REACH program to pay for their current utility bill.

Customers must self-certify that they are experiencing economic hardship due to the COVID-19 so their PG&E accounts can be flagged.
Customers must call 1-800-743-5000 to speak to a PG&E representative before they can apply for the grant.

Customers must be past-due on their PG&E account, and meet program income requirements.

Previous REACH assistance will not affect eligibility within this special assistance period.

The intake agency will not need to provide any additional documentation to Dollar Energy Fund with their normal REACH application documents.

An end date for this assistance has not yet been set.
Running Essential Errands
https://www.cdc.gov/coronavirus/2019-ncov/daily-life-coping/essential-goods-services.html
California Public Health
https://www.cdph.ca.gov/Programs/CID/DCDC/Pages/Immunization/ncov2019.aspx
Coronavirus (COVID-19) in California
BUTTE COUNTY PUBLIC HEALTH
https://www.buttecounty.net/publichealth/
California Employment Development Department
Have you recently lost your job? The link provides information for individuals who may have recently lost their job to see if they qualify for the Unemployment Insurance (UI) program. https://www.edd.ca.gov/Unemployment/
California residents that may need to apply for benefits can utilize this link to see if they qualify. https://www.c4yourself.com/c4yourself/index.jsp